The Red Alert Wall is one of the largest walls in North America south of the Arctic and until last month, it hadn't been climbed. Most climbers didn't even know it existed.
On July 6, Cranbrook's Travis Foster and Drew Leiterman began climbing the 1,500 metre near-vertical wall in the Daniels River Valley. They summitted on July 14 and then made it back to The Shinglemill on the 20th.
"This is a great addition to Canadian rock climbing," said Travis. "You don't see new walls like this climbed every year."
To the best of their knowledge, no one has completed a full ascent of the wall before. "Someone had climbed a third of the wall in 1998 … and had to retreat."
Travis and Drew named their route Jungle is Massive 5.10 C2. Red Alert Wall gets its name from an article written by John Clarke in the Canadian Alpine Journal in the late 1980s where he wrote a "red alert" to climbers that there was a massive wall in the Daniels Valley.
Travis' mother Maureen Foster, and aunt and uncle Corlia and Gerard Purdue of Imagine Laserworks, all live in Powell River. While visiting family here at Christmas, he discovered the wall while browsing Google Earth. "I was blown away by the measurements," he said. After doing some research he got in touch with Robb Richards, a local climbing pioneer, who put up first routes throughout the nearby Eldred River Valley.
"His openness and generosity meant so much to us."
The two climbers were dropped off at the head of Powell Lake. They caught a 12.8 kilometre ride up a logging road (a big thank you from Travis to 'Steve and Rick") and then hiked for 10 kilometres to where they made their base camp. They had to make three trips to carry in their food, climbing equipment and camping gear.
"The walls here trump anything in the Eldred Valley," said Travis. There's a lot of rock around here that deserves attention." To put it into perspective, Travis points to El Capitan, the famous, but comparatively small 950-metre vertical rock formation in Yosemite National Park, and then at Red Alert's 1,565 metre granite climb.
"Powell River is a world class climbing destination that is so under-estimated. People go to the Arctic to climb big walls but 150-kilometres from Vancouver you have the same size walls here. I think there could be a real industry for climbing in Powell River," he said.
"It has been the greatest kept secret. It's been whispered about for a while now."
"We're thrilled and feel incredibly lucky to have climbed this," he told Powell River Living magazine.
Mountain Equipment Co-op gave a grant to help outfit Travis and Drew. As well, they credit climber Evan Guilbault who spends a lot of time in the Eldred, for being "an open book." "If it wasn't for him, this probably would have still remained a dream."
Kevan Robitaille, who is working on the indoor rock climbing gym, said the event should be a big deal in the climbing world: "Yes, it's hard to get to – but it's a lot easier to get to than somewhere like Baffin Island. The size of these walls is difficult to comprehend. It took 11 days to climb. They are some of the last Virgin walls of this size outside of super remote areas like Baffin. That is a big deal. It's definitely expedition climbing, it will never be a place you can just drive to in one day, but news of this ascent in a valley with these kind of walls will make some big waves in the North American climbing scene. There will very likely be some serious climbers looking to come make their mark."
By Isabelle Southcott |isabelle@prliving.ca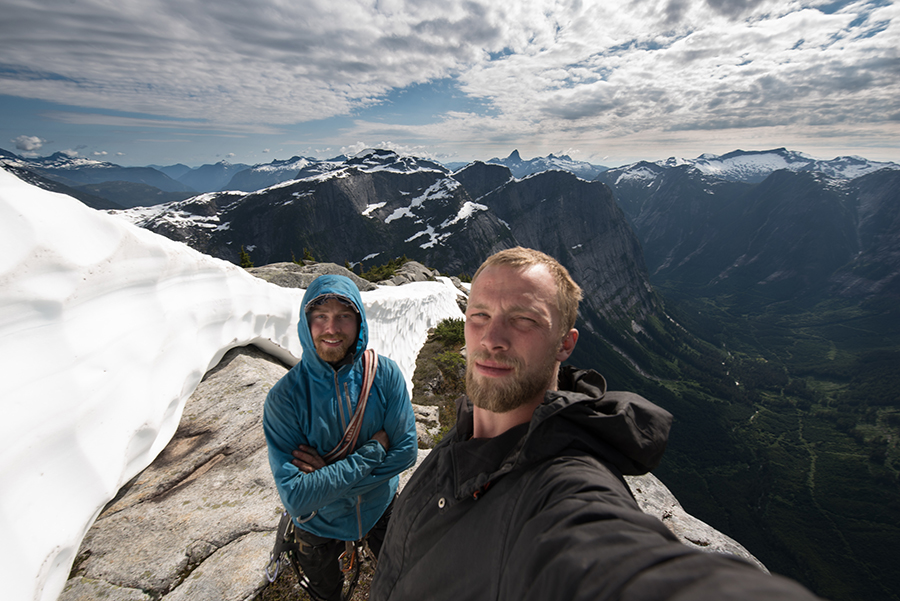 A selfie at the summit by Drew Leiterman with Travis Foster.