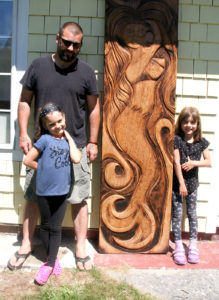 Dan Brown grew up on Quadra Island. He's a cabinet, granite counter maker and artist. Now he is a full-time knife maker out of his Wildwood workshop.
Dan makes high-end folding knives and fixed blades.
He enjoys the outdoors, mountains, biking and being with his kids. If you want to see his work look on Instagram @dkbknives or Facebook dkbknives
Why did you choose to move here?
Dan • To be closer to my kids and to raise them in a smaller community. Also, buying a home here was affordable, Courtenay has gone crazy.
When? Where from?
Dan • I moved here last September from Courtenay.
What surprised you about Powell River once you moved here?
Dan • How many other people there are from other cities and communities that have come here to find a better lifestyle.
Where is your favourite place in Powell River?
Dan • Wildwood has become my favourite place. I love that it has farming roots, James Thompson school has been awesome for my kids, Gibsons beach is two minutes away…love it!
How did you first hear about Powell River?
Dan • I have family roots here and have been visiting for years.
What would make Powell River a nicer community?
Dan • The community here is great as it is – a lot of good people that care about where they live!
What aspect of your previous community do you think would benefit Powell River?
Dan • Courtenay has worked on lots of ways to get around without a car. Bike/walking paths link up all the parts of town. This is great as because it makes it safer for those that commute this way, encourages others to walk and ride, and gets a percentage of cars off the road.
If you were mayor of Powell River, what would you do?
Dan • I would focus on the tourist economy here. There is a lot of room for improvement in this sector. I would create a safe biking/walking path from the bridge at the lake, thru Townsite then down to Willingdon and along to the ferry. It would be lit and safe to travel on at night. Tourists could explore the town this way and it would promote a healthy lifestyle. I would clean up the rotting hotel that is at the Town Centre and add anything other than fast food or a box store. There is a great lake-side beach past the Shinglemill pub that should be a public park, I would upgrade that as there is only one easy lake access at Mowat Bay.
What are Powell River's best assets?
Dan • Its best assets are the amazing people that are here creating new businesses and services and its amazing ocean views.
What's your greatest extravagance?
Dan • I spent a couple months wandering around Spain with my brother. What a trip….
What superpower would you choose?
Dan • I would choose being able to move super fast so I could keep up with my kids' messes and get work done!