Alexander McNaughton can't get over the abundance of wild food in Powell River. It's one of the first things he noticed when he moved here earlier this year with his girlfriend.
But Alexander is a professional food forager so it stands to reason that he would notice different wild food sources that might be missed by others.
Alexander finds wild food and sells it. It's his job. It sounds pretty straightforward but actually, it isn't. There are tons of blackberries in August and earlier it was huckleberries and salmon berries. But those sweet Pacific trailing blackberries are tiny and it takes a whole whack of them to fill a bucket. As Alexander explains the place where he picked them was in a remote area, on the side of a scree, littered with bear scat.
Kind of sounds like cleaning a window on the 49th floor of a building, doesn't it?
But wait, there's more. Alexander also has to find a buyer and ship these perishables to the buyers in a very short period of time.
There's more to food foraging than meets the eye. Using maps, looking at water sources and the type of trees growing, Alex figures out what food grows where before venturing out. "A lot of my job is research," he explains.
Food foraging isn't for everyone but if you love hiking and being outdoors, it can be a lot of fun. "It's kind of like cross fit meets hiking," says Alexander.
Wild edibles have existed for thousands of years and can be found everywhere, you just have to forage for them. Our ancestors depended on edible weeds, flowers and herbs to eat and for medicine.
Once he's gathered the wild food, he arranges to have it couriered to its destination. And because those berries or mushrooms or fiddleheads are perishable, he has to get it there fast.
Alexander grew up in the Comox Valley. He has a degree in international studies and a sustainable community development certificate from Simon Fraser University. After he graduated, he launched his own business, Umami Consulting, a food systems consulting firm. "I'm interested in food sustainability," he explained.
Also known as "Alex the Forager," he's done everything from food planning work to community gardening to wild foraging guided hikes.
He got his start in the business by selling figs in Vancouver. "I brought fresh figs to everyone. They couldn't get over how good they tasted." He expanded by harvesting and distributing a salad mix for farmers: spring nettles, fiddleheads and spruce tips.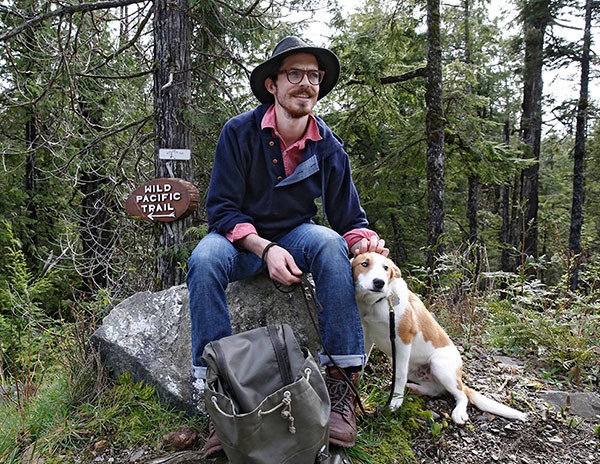 Food forager Alexander McNaughton on the hunt for wild edibles.
Alex and his partner moved to the west coast where he was the president of the Ucluelet Farmer's Market. He spent the last three years as the community food coordinator for the Tofino Ucluelet Culinary Guild or TUCG.
"The Guild provides a huge service to farmers," he said. TUCG, a group buying coop on the west coast, does a million dollars a year through restaurants and families.  It is easier to have one person buying from the farmer and distributing everything, he noted. For instance, if a restaurant is looking for broccoli or beets or even fiddleheads, they would call the Guild. In his role as coordinator, Alex would know all the local farmers who were growing broccoli or beets and if it is wild food they're after, he knew where to get that too. The restaurant saves time because they don't have to phone everyone and the farmer saves time because he or she doesn't have to spend time marketing their product. Part of the role of the culinary guild is to train farmers to grow to suit the needs that restaurants have and to teach restaurants to work with the farmers.
Since moving here in March, Alexander has been busy meeting and networking with restaurateurs and others involved in the food industry.  He's into seasonal edibles.
"I met with Townsite Brewing and I brought them some salmon berries and they made an amazing salmon berry release," he said.
Alexander has also been working with Russ at the Chopping Block. "These are the kind of businesses I like working with," he said.
Alexander is a proud supporter of Farmer's Markets. "Farmer's Markets are more than cute, social events. They are more than train rides and a place to engage with the community. Everyone needs to go with $100 cash in their hands and fill a bin with groceries for the week, go home and eat them and come back next week. That's how you can help keep farmers here. We have farmers in Powell River who could use support financially. That is how you will see growth. If they sell their food maybe next time they'll plant an extra row or two," he said. "Everyone eats and most prefer local food."
Alexander has lots of ideas and is a strong supporter of the coop model for farmers. He says a carrot washer seems basic but he doesn't know any farmers in Powell River that have one. However, it would make life easier for farmers to have access to one.
"In Merville, they have an Organics Coop and they share one tractor amongst five farmers."